Acupuncture and Sports Massage
Acupuncturist: Kirstie Smith BSc (Hons), MBAcC.



Traditional Chinese Acupuncture and Massage and Sports Massage.

These are the Chinese Characters for "Acupuncture"
Left character -
needle
Right character –
moxibustion
The Chinese word for acupuncture
zhen jiu
is pronounced
jen jio
Traditional Acupuncture treats you - the whole person and not just the symptom. Our Holistic approach recognises that your illness and pain are signs that your body is out of balance.
Your initial consultation and treatment will take approximately one and a half hours .
Your follow-on treatments will be between 50 minutes and an hour each.
Sports Massage helps to alleviate sporting injuries with manual techniques and relieves everyday anxiety and stress, helps relaxation, aids sleep, and promotes a sense of well-being, involves the application of pressure (by kneading, rubbing or traction) to help ease musculo-skeletal problems.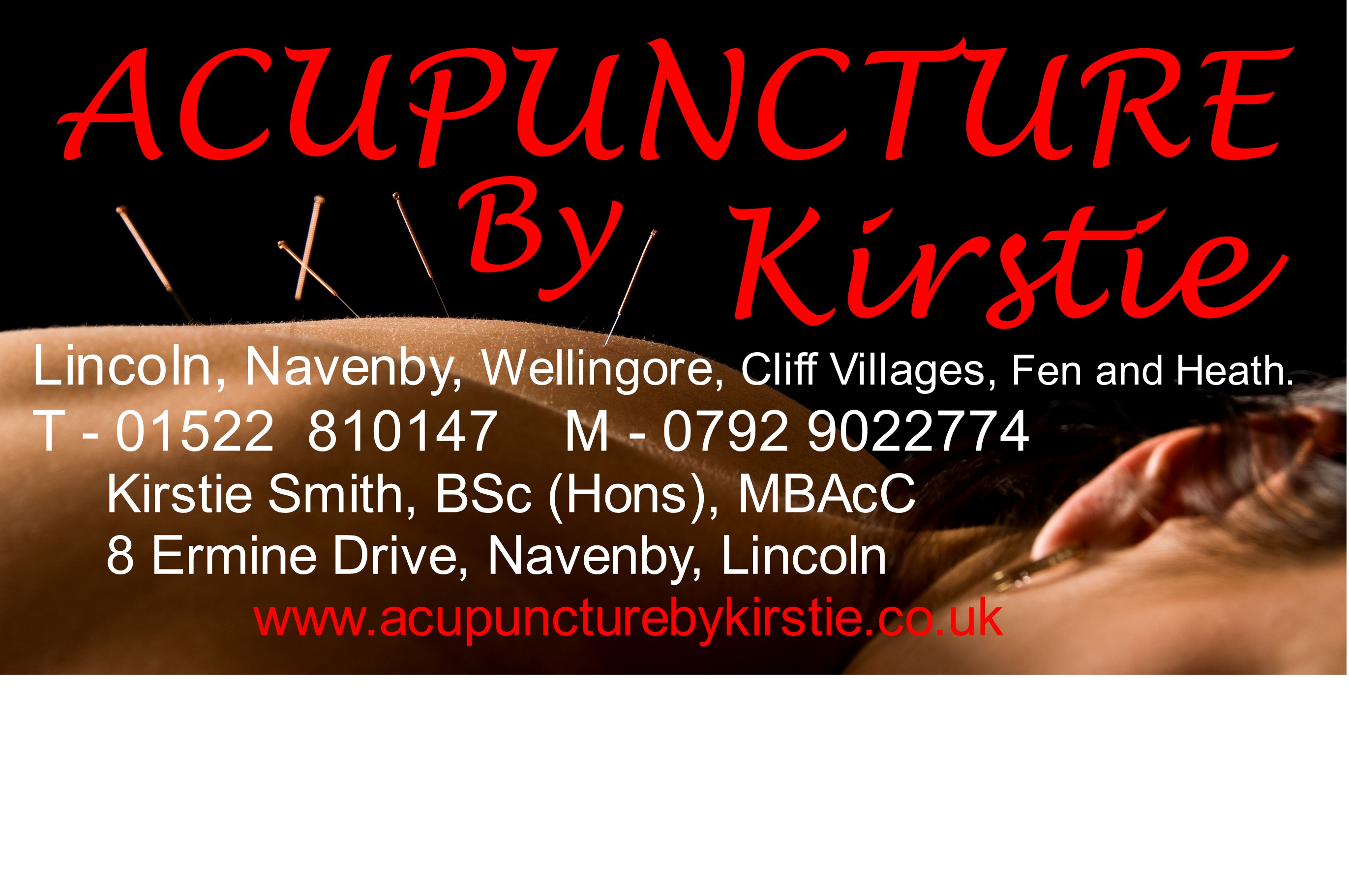 Covid-19 Procedures, Treatment Limitations, and Pre-appointment Screening and Consent.
Treatment Limitation.
We are currently unable to offer Sports massage alone.

As you will be aware all public places have created new rules for visitors to follow for their safety and the safety of others. Please read through before attending the clinic. If you have any further questions, please let me know.
Social distancing - current guidelines for Covid-19 apply, , if you have questions, please ask.
Entering the clinic, patient arrivals and departures are spaced so that all visitors to the clinic can remain socially distanced, and to give time for sanitising in between appointments.
Unless you require assistance for specific support and care needs, we ask you to come alone for the appointment where possible unless a chaperone, parent or carer is required.

Please leave accessory items (bags and coats) in the car, or travel with as little as possible.

Before arrival if you or someone you live with develops symptoms of Covid-19 by the time of the appointment, please contact me before attending the clinic.
You will receive a specific time for arrival
When you arrive, if the door is not open please wait either in your car or outside and I will come and collect you.
Hand washing - there is a alcohol gel dispenser placed at the entrance, please use on entering. There is a poster nearby to demonstrate application techniques recommended by the NHS. Please also apply the gel before leaving the clinic.
Face masks and respiratory hygiene, if you wish to wear a face mask you may bring your own or I am happy to provide one for you upon entering the clinic. I will wear a mask and apron and appropriate PPE where necessary.

If you need to sneeze or cough while in the clinic, please do so into a tissue and dispose of it in the bin provided. Kindly wash your hands immediately after doing so.
There is a Covid 19 consent form to sign, so you may feel comfortable using your own pen, although pens are available that will have been sanitised.
Payments; cashless payment where possible please.
Procedures to protect against transmission of Covid-19, establish Risk and to obtain Consent

In clinic I have instituted procedures to minimise risk of transmission of Covid-19, and taken the necessary government mandated steps of risk assessment and social distancing, hygiene, hand-washing and PPE procedures to minimise the risk.

In the course of the consultation I will have to have non-socially distanced contact with you to perform the treatment, hence while I will meet very high standards of infection protection control, it is impossible to completely eliminate risk.

Pre-appointment consent questions

You will be contacted by e-mail or telephone.

Please answer the following questions, and Reply by e-mail,
that you have answered "No" to Questions 1 to 6 inclusive, understand the risks and are happy to proceed with the treatment:

If you answer "Yes" to any of Questions 1 to 6, Do Not Attend,
If you have answered "Yes" to Questions 7 or 8, please contact me to discuss.
(Being in clinically vulnerable, or extremely vulnerable does not mean that you cannot be treated, but it is important that the Risk is considered).
In the last seven days:
1 Have you had a high temperature? (this can mean feeling hot to touch on your chest and back - you do not need to measure your temperature)
2 Have you had a new continuous cough? (this means coughing a lot for more than an hour or three or more coughing episodes in 24 hours - if you usually have a cough, it may be worse than usual)
3 Have you lost sensations of taste or smell?
4 Have you had close contact (under 2 metres) with anyone with a confirmed Covid-19 diagnosis or someone exhibiting the above 3 symptoms in the last 14 days
5 Have you recently travelled abroad and/or been instructed by the government to quarantine?
6 Have you been contacted by the government or NHS and told to self-isolate for any reason?
7 Do you fall under the clinically vulnerable category or the clinically extremely vulnerable category (see below) - Being in either group does not mean that you cannot be treated, but it is important that the Risk is considered.
8 Do you live with someone who is in either the clinically vulnerable category or the clinically extremely vulnerable category (see below)?
Clinically vulnerable people People in this category of risk include:
1 Anyone aged 70 and older (regardless of medical conditions)
2 Anyone under 70 with an underlying health condition (that is, anyone instructed to get a flu jab as an adult each year on medical grounds) – such as:
chronic (long-term) mild to moderate respiratory diseases, such as asthma, chronic obstructive pulmonary disease (COPD), emphysema or bronchitis

chronic heart disease, such as heart failure

chronic kidney disease

chronic liver disease, such as hepatitis

chronic neurological conditions, such as Parkinson's disease, motor neurone disease, multiple sclerosis (MS), a learning disability or cerebral palsy

diabetes

a weakened immune system as the result of conditions such as HIV and AIDS, or medicines (such as steroid tablets )

being seriously overweight (a body mass index (BMI) of 40 or above)


pregnant women
Clinically extremely vulnerable people People in this category of risk include:
1 Solid organ transplant recipients.
2 People with specific cancers:
people with cancer who are undergoing active chemotherapy

people with lung cancer who are undergoing radical radiotherapy

people with cancers of the blood or bone marrow such as leukaemia, lymphoma or myeloma who are at any stage of treatment

people having immunotherapy or other continuing antibody treatments for cancer

people having other targeted cancer treatments which can affect the immune system, such as protein kinase inhibitors or PARP inhibitors

people who have had bone marrow or stem cell transplants in the last 6 months, or who are still taking immunosuppression drugs
3 People with severe respiratory conditions including all cystic fibrosis, severe asthma and severe chronic obstructive pulmonary disease (COPD).
4 People with rare diseases that significantly increase the risk of infections (such as severe combined immunodeficiency (SCID), homozygous sickle cell).
5 People on immunosuppression therapies sufficient to significantly increase risk of infection.
6 Women who are pregnant with significant heart disease, congenital or acquired.
7 Other people have also been classed as clinically extremely vulnerable, based on clinical judgement and an assessment of their needs. GPs and hospital clinicians have been provided with guidance to support these decisions.


Privacy Notice
Acupuncture By Kirstie
The processing of personal data is governed by the General Data Protection Regulation 2016/679 (the GDPR). This Legislation gives more rights to you as the individual and more obligations to organisations holding your personal data.
Click on the GDPR Link >>>
to read the Acupuncture By Kirstie Privacy Notice

Acupuncture By Kirstie,
Kirstie Smith, BSc (Hons), MBAcC
Acupuncturist,
Practitioner of Traditional Chinese Medicine,
Please Call for Appointment
T - 01522-810147
M - 0792 902 2774
or
e-mail
Kirstie not Kirsty (just here to pick up search with name as Kirsty)

acupuncturebykirstie@outlook.com
This standards compliant, simple, fixed width website template is released as an 'open source' design free to download and used by modifying and amending. The 'design by dcarter' link in the footer of the template indicates original author.
This template has been tested in the following browsers; Internet Explorer 8, Internet Explorer 7, FireFox 3, Google Chrome 2, Safari 4